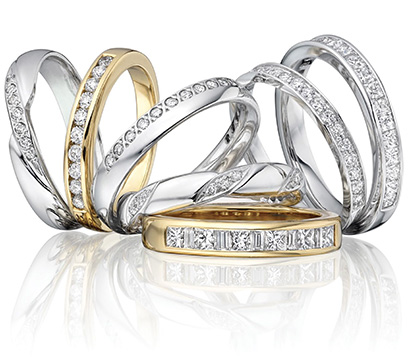 Wedding Rings
Your wedding ring is something that you'll want to wear for the rest of your life, so it's got to be perfect! Whether you want a traditional band or something more unique, we can help you create your special ring.
Handmade Bespoke rings
In choosing a wedding ring you can select the profile or shape, the desired width and weight, the metal, finish and the cut and placing of any stones you may want set.
Using state of the art technology we can produce a bespoke wedding ring which will compliment your engagement ring perfectly… You can also Personalise your wedding band with a message of your choice.
Hand crafted in the UK
Our new Wedding rings are hand crafted in the UK
We work in Gold, Platinum and Palladium making Traditional, Contemporary, Diamond set and Handmade Bespoke rings. we work closely with Lawson Ward and Gammage and Charles Green to offer the finest rings.
Gold wedding rings
The most traditional choice for wedding rings is simple graceful and original yellow gold, which comes in a variety of purities, measured in "carats". The usual carat amounts used in the UK are 9ct, 18ct, and 22ct.
Palladium wedding rings
Palladium comes from the same family of metals as platinum and looks very similar to it as well. This metal has been considered precious since its discovery in 1803, but has only just joined the ranks of hallmarked precious metals in 2010. It is produced in the UK with the same purity as platinum at 95% and is fineness hallmarked with '950'.
Platinum wedding rings
Platinum is the most expensive of the commonly used noble metals because of its rarity. With its soft, satin-like finish, platinum holds natural hypoallergenic properties. It is hard, heavy and durable.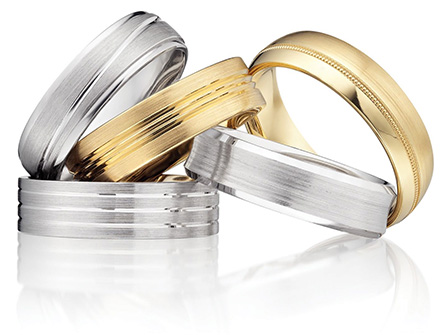 Below you can find an overview of our featured products.